Main Menu
Home
 
 Discover Iowa

About Us

Advertise With Us

FAQs

Why Shop Locally

Coupons & Specials

Link Exchange

 User Panel (Login)
 
 Add your listing
 
 Compare Listing Options
 
 Contact Us
 
 Admin Panel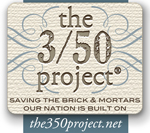 SoyClean
123 North Orchard
PO Box 489
Brooklyn, IA 52211
Description:  What does it mean to be green? SoyClean products are safe for the people using the products, for the people, plants, and animals that may come in contact with the products later, and for the environment. SoyClean products are non-toxic and biodegradable.
Contact:  Rusty -
MS Outlook Vcard
Hours of Operation: Available Products:
Soy based paint, stripper, graffitti remover, stain remover, mastic remover, driveway cleaner, patio cleaner, bbq grill cleaner, penetrate lubricant, diesel fuel additive, concrete sealer, hand cleaner, hydraulic fluid.
Specials:
Phone:  888.606.9559
Fax: 
Mobile: 
Bookmark & Share us:
Send Message
Visit Website
Refer a friend
Mapquest Directions
Print
Listed in these categories
 Manufacturing, Production & Wholesale - Home & Garden

 Home & Garden - Accessories

Spotlight Showcase


Support our Showcase Members who help us build better communities.
Advertisers
Featured Listings
Timmy Flynn's Red Pepper Deli & Grill
The Secret Cellar
Knoxville Chamber and Economic Development Growth Alliance
JJ's Cupcakes and Creamery
Konek PC
Sugar Grove Vineyards & Gatheringplace
Cindy's Boutique
Cornbelt Running Club
Cedar Valley Postings.com
Twilight Candles
Basket Bowtique
Clear Creek Orchards
The Salvation Army
Graphics by Peggy
Ganda's Bridal Boutique
Statistics
Listings Active: 3996
Total Categories: 782
Follow Us
Bookmark & Share: