Main Menu
Home
 
 Discover Iowa

About Us

Advertise With Us

FAQs

Why Shop Locally

Coupons & Specials

Link Exchange

 User Panel (Login)
 
 Add your listing
 
 Compare Listing Options
 
 Contact Us
 
 Admin Panel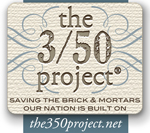 Pride of Iowa Market Place
211 Main Street
Columbus Junction Iowa 52738
Description:  A unique shopping experience of handcrafted creations
Freda Sojka, co-owner with her husband Jim of Simply Soothing, wanted to start a business to help promote local artisans and the local economy of the USA in general.
She had a vision to have a store in the Heartland of America that not only sold items that were made in the USA, but sell items that were made locally in Iowa, hence promoting the local people to shop local and keep their money local!
Contact:  Freda Sojka -
MS Outlook Vcard
Hours of Operation:
Tuesday, Wednesday, Thursday & Friday ~ 10am-5pm

Saturday ~ 10am - 2pm

Closed on Sunday and Monday
Specials:
Phone:  319-728-7070
Fax: 
Mobile: 
Bookmark & Share us:
Send Message
Visit Website
Refer a friend
Mapquest Directions
Print
Listed in these categories
 Shops & Stores - Gift, Novelty, and Souvenir Stores

 Shops & Stores - Arts & Crafts

Spotlight Showcase


Support our Showcase Members who help us build better communities.
Advertisers
Featured Listings
Aladdin Restaurant - Cedar Rapids
BlueStem Winery
Characterwatch.com
It's Made In Iowa, LLC
Hawkeye Computer Services
Louisa Development Group
North Liberty Fire Department
Triple B Models
Knoxville Chamber and Economic Development Growth Alliance
My Candlelit Home
Cornbelt Running Club
Graphics by Peggy
Anderson Family Chiropractic
Sorensen's Water Conditioning
Bethany Lutheran Church
Statistics
Listings Active: 3996
Total Categories: 782
Follow Us
Bookmark & Share: