Main Menu
Home
 
 Discover Iowa

About Us

Advertise With Us

FAQs

Why Shop Locally

Coupons & Specials

Link Exchange

 User Panel (Login)
 
 Add your listing
 
 Compare Listing Options
 
 Contact Us
 
 Admin Panel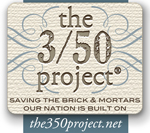 Breads From Anna
1630 Willowcreek Drive
Iowa City, Iowa 52241
Description:  Anna Sobaski, creator of Breads From Anna®, travels all over the country helping people enjoy a gluten-free lifestyle by teaching gluten-free cooking classes and workshops. She speaks at conferences, support groups and a number of health food stores frequently. As the creator and president of Breads From Anna®, she developed the line in 2004 with only one product, the Original Gluten, Soy, Nut and Rice Free Bread Mix. Now several years later, there are twelve products total, sold in hundreds of stores all over the world.
Contact:  -
MS Outlook Vcard
Hours of Operation:
Specials:
Phone:  319-354-3886
Fax:  319-358-9920
Mobile: 
Bookmark & Share us:
Send Message
Visit Website
Refer a friend
Mapquest Directions
Print
Listed in these categories
 Made In Iowa

 Food & Beverages - Baked Goods & Candy

Spotlight Showcase


Support our Showcase Members who help us build better communities.
Advertisers
Featured Listings
Memories That Last
Main Street Corning
Anderson Family Chiropractic
Clear Creek Orchards
Prairieland Herbs
BlueStem Winery
Dairy Queen of Coralville
The Secret Cellar
All Season Janitorial, Inc.
North Liberty Food and Clothing Pantry
North Liberty City Government
Elkader Area Chamber of Commerce
It's Made In Iowa, LLC
Bethany Lutheran Church
Sorensen's Water Conditioning
Statistics
Listings Active: 3996
Total Categories: 782
Follow Us
Bookmark & Share: