Main Menu
Home
 
 Discover Iowa

About Us

Advertise With Us

FAQs

Why Shop Locally

Coupons & Specials

Link Exchange

 User Panel (Login)
 
 Add your listing
 
 Compare Listing Options
 
 Contact Us
 
 Admin Panel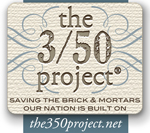 Aunt Hattie's Fanciful Emporium
102 South Cody Road
P.O. Box 192
LeClaire, Iowa
52753
Description:  Gifts that all your friends will be asking you where did you get that? Chat Packs, Tins Signs, Gum with Attitude,Greeting Cards, Mints, Baseball Cards, Bar ware and bar signs, books, collectibles, cookie jars, magnets, flasks, coin purses, fashion jewelry. Birthday Gifts,
Anniversary Gifts
WINNER of the 2013 BEST Gift Shop Award
Contact:  Donna or Wayne Walley -
MS Outlook Vcard
Hours of Operation: Aunt Hattie's Fanciful Emporium is Open almost every day of the year!

Monday - Sunday
Winter Hours 11AM to 5:30PM
I do go to Market In January - July and because we are a mom & pop business there are days when the store will be closed because of doctor appointments, city hall meetings, death in the family, etc.
I'm so sorry but there will be times the store will be closed.
Specials:
Phone:  563-289-2228
Fax: 
Mobile: 
Bookmark & Share us:
Send Message
Refer a friend
Mapquest Directions
Print
Listed in these categories
 Shops & Stores - Gift, Novelty, and Souvenir Stores

Spotlight Showcase


Support our Showcase Members who help us build better communities.
Advertisers
Featured Listings
Close To My Heart
Prairieland Herbs
Barkalow & Associates Realtors
It's Made In Iowa, LLC
Noble Popcorn Farms
Coralville City Government
Copyworks
Aunt Hattie's Fanciful Emporium
Sheri's Book Treasures
North Liberty Farmers Market
River Cities' Reader
BlueStem Winery
Konek PC
Graphics by Peggy
Polk City Chamber of Commerce
Statistics
Listings Active: 3996
Total Categories: 782
Follow Us
Bookmark & Share: